L'articolo spiega come recuperare lo username e la password per dell'App per il Check-in
You can retrieve and change the Check-in App credentials from the "App Setup" tab on the Eventboost Platform.

Click on the Login credentials area to access the App Accounts settings. You can then check or change the App username and password Associate to your account.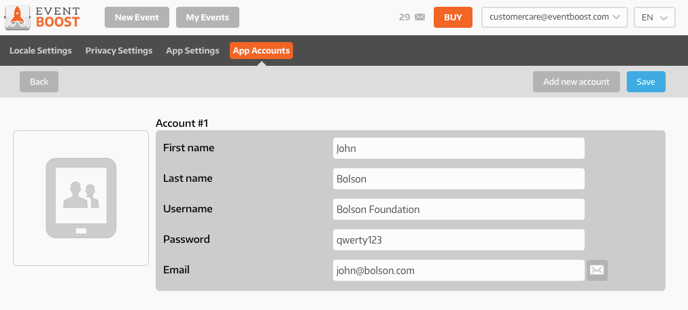 If you want, you can also add multiple App Accounts. To do so:
Click the "Add new account" button on the top-right of the page.
Enter the information required.
Save your preferences.
You can also access the App Account settings by clicking anytime on the email address next to the orange "BUY" button on the top-right of the page.
Click the email address, then "Settings".
Click the "App Accounts" tab on the top black bar of the page to see your App credentials, change them, and/or add new App accounts.
See you online!